Madhya Pradesh State Open School (MPSOS) is all set to commonce the CBSE on demand 12th exams for the concerned students.  Students who are currently studying under the CBSE board in the state of Madhya Pradesh are eligible to participate in these board exams.  The board has just issued the MP CBSE On Demand 12th Time Table 2020 via its web portal.  Check the details about it here.
MP CBSE On Demand 12th Time Table 2020
Every year lakhs of students pass out from the MPSOS conducted board exams.  The exams will be conducted on a grand note and students take part in them in huge numbers to prove their talent and of course to proceed with their preparation.  The exam is conducted at the end of the academic session and also in the middle of the session – regular and supplementary. Students take part in the exams very seriously to gain good grades.  Now taking into consideration the hard work of the students, the board has issued the time table for the 12th CBSE on demand exams. The Central Board of Secondary Examination conducts these exams in the state of MP for the 12th pursuing students.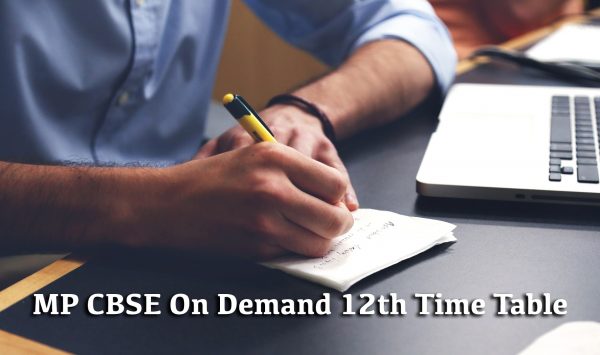 The MP CBSE on Demand 12th Time Table released by the MP board says that the exams will be held from December 2nd to December 14th.  Students must be ready to face the exams with utmost ease and determination to crack them like no one. Students need not study 24*7 to achieve good marks, instead study with all the mind at least for 4 to 6 hours daily.  Also, take some time out for revision in the end as it would help a great deal for the students to achieve their target. Coming back to the time table, the direct link has been activated in the official website. Students can visit the website and click on the activated link to download the time table instantly.  If not simply check the briefly tabulated dates, day and subject names from this page here.
How to Download MP CBSE on Demand 12th Time Table
To download the MP CBSE On Demand 12th Time Table December 2020, we have devised some steps that will guide you on getting the work done.
Open the authoritative web portal of MPSOS – mpsos.nic.in.
In the website you will see many activated links.
Move to the right corner of the page and you will see few links highlighted.
Click on the highlighted link that says 'CBSE On Demand Time Table 2020'.
It will direct you to a new page where you can see the time table of the concerned exams.
Check the dates along with other particulars and download the PDF file.
Make a copy of the file for easy reference of dates.
So, this is the article on CBSE On Demand 12th Time Table December 2020.  If you want to know more about the MPSOS exams, visit us often.  Our website address is KVPY.ORG.IN.