Good news for those students who are pursuing class 12th under CGBSE board.  Students who want to know the timetable of their 12th board exams can check them here in this page.  The CGBSE board has issued the time table of the 12th public exams just now.  Students can grab the timetable by visiting the official website of CGBSE.  Students should note that the timetable contains the important dates of the exams subject wise along with subject codes.  The board has made some changes to the subject codes and so students are advised not to confuse over it. CGBSE 12th time table 2021 is also provided here in tabular form for you.
CGBSE 12th Time Table 2021
Chhattisgarh Secondary Education Board headquartered in Raipur is a popular board in the state.  The board conducts examinations for High school, higher secondary, higher secondary professional etc.  The board proposes the curriculum for the secondary education and also directs the government regarding issuance of the text books to the students.  It recognizes schools and junior colleges in the state. It promotes programmes to enhance the level of education in the state. It also honors the toppers in the 10th and 12th exams with Gold medals and silver medals.  As the regular exams is nearby, the board has announced the official exam dates through CGBSE 12th Time Table. Followed by which it will release admit card and CG Board 12th Result 2021.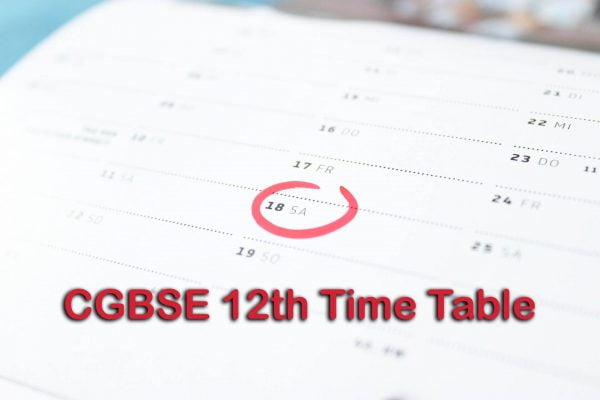 According to the CGBSE 12th Time Table released, the exams will be held in May.  The exams will be held starting from 3rd May 2021 and will end on 24th May 2021.  Students should get ready to take up the exams and prove their worth.  The first and second inter exams will be held on alternative days. Students can check the separate time tables for both the years in the official website.  The stream wise time tables were also uploaded online for easy identification. Students depending on their convenience can download the CGBSE 12th Time Table and also the CG 12th Admit Card from official website.
Date
Day
Subject Name
3rd May 2021
Monday
First Language (Specific)
Hindi
English
Marathi
Urdu
New Course
Hindi
5th May 2021
Wednesday
History
Physics
Elements of Commerce and Management
Elements of Science and Maths for Agriculture
Drawing and Painting
Food and Nutrition
New Course
History
Physics
Business Studies
7th May 2021
Friday
Economics
Biology
Applied Economics and Commercial Geography
Industrial Organisation
Elements of Animal Husbandry and Poultry Farming
History of Indian Art
Elements of Science
New Course
Biology
Economics
10th May 2021
Monday
Mathematics
New Course
Mathematics
12th May 2021
Wednesday
Political Science
Chemistry
Book Keeping and Accountancy
Crop Production and Horticulture
Still Life and Designing
Physiology and First Aid
New Course
Political Science
Chemistry
Accountancy
15th May 2021
Saturday
Second Language (Normal)
Hindi
English
Sanskrit
New Course
English
17th May 2021
Monday
Geography
New Course
Geography
18th May 2021
Tuesday
Commercial Mathematics
19th May 2021
Wednesday
Retail Marketing Management
Information Technology
Automobile Service Technician
Health Care
Agriculture
Media and Entertainment
Telecommunications
Banking, Financial and Insurance
20th May 2021
Thursday
Marathi
Urdu
Punjabi
Sindhi
Bengali
Gujarati
Telugu
Tamil
Malayalam
Kannada
Udia
Environment
21st May 2021
Friday
Indian Music
Drawing and Designing
Dance
Stono Typing
Agriculture
Sociology
Psychology
Home Science
New Course
Sociology
Psychology
22nd May 2021
Saturday
Sanskrit (Humanities)
Specific Sanskrit
New Course
Sanskrit
24th May 2021
Monday
Computer Applications
CGBSE 12th Time Table 2021
How to Download CG Board 12th Time Table 2021
Students should seek the help of the official website itself for the time table reference.  It alone hosts the appropriate stuff regarding the board exams.
The steps listed below will guide you on how to download CG Board 12th Time Table 2021.  
Go visit the official website of CGBSE first – cgbse.nic.in.

In the website you can find the section titled 'High School/Higher Secondary/Higher Secondary Professional Supplement/Opportunity Examination 2021 Timetable under information brochure section'.

Click on the link and it directly opens the PDF file of the time table in a new page.

The PDF file gets downloaded automatically and you can open it to view the dates of the exams along with subject names and subject codes.

If necessary, take a print of the page for reference.
So, this is how you should get the CGBSE 12th Time Table 2021 downloaded into your system.  If you have any queries related to CGBSE 12th Exams please feel free to leave them below in the comments section.  Don't forget to visit our website – KVPY.ORG.IN often.