Good news for the students belonging to the Gujarat Secondary and Higher Secondary Education Board.  The GSEB board has released the time table for the HSC exams 2020. The board as always has released the time table via the official website of Gujarat Education Board.  Students pursuing the HSC education under the Gujarat board can grab their GSEB HSC Time Table 2020 from online right away.  The exam time table has been released for all the streams such as Science, Arts and Commerce.  Students can download their stream wise time table accordingly from online in PDF format. The exam dates of all the subjects along with subject codes are clearly given in the official exam schedule released by the board.  Students are advised to go hurry up and get it downloaded as soon as possible.
Update: As per the GSEB HSC Time Table 2020 released, the exams for the class 12 students of science, general and vocational streams will be held from 5th March and will continue till 21st March 2020. Check complete information available here.
GSEB HSC Time Table 2020
GSEB is a state level educational board that is mainly intended to take care of the educational system in the state of Gujarat.  The main purpose of the board is to organize the board exams annually to the eligible students and provide them with certificates on qualification.  GSEB has set everything ready for the hsc board exams. It has earlier released the notification and many hsc students studying in both government and private affiliated schools applied through their schools.  Now the board has yet again come up with another announcement and that is the Gujarat Board HSC Time Table.  Students should have the time table with them no matter what as it plays a key role in exam preparation.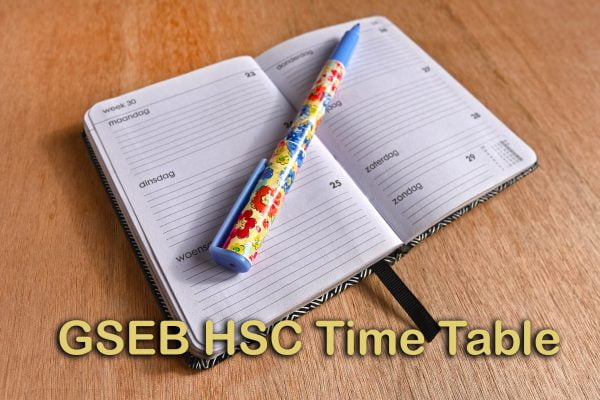 Students should bear in mind that the hsc board exams are very important and the marks secured in the exams will help them pursue a better career in the future.  According to the exam schedule released by the Gujarat board, the exams will commence from 07 March 2020. The last date of the exams is on 16th March 2020. However, the GSEB General Stream exams will commence from 07 March 2020 and will end on 21st March 2020.  The exam will be held in two sessions i.e., morning and afternoon. Students should check the timings of the exams too from the GSEB HSC Exam Time Table and appear for the exams with GSEB 12th Admit Card.
For General Stream:
Date
Day
Morning Shift 
(10:30 AM to 01:45 PM)
Afternoon Shift
(03:00 PM to 06:15 PM)
5th March 2020
Thursday
Co-operative Panchayat
Bookkeeping Basics
6th March 2020
Friday
History
Statistics
7th March 2020
Saturday
Agriculture
Home VidyalayaClothing EducationAnimal Husbandry and Dairy Science
Science Forestry and Herbology
Philosophy
11th March 2020
Wednesday
–
Economics
12th March 2020
Thursday
Secretarial Practice and Commercial Practice
Geography
13th March 2020
Friday
Social Science
Commercial Arrangements
14th March 2020
Saturday
–
Psychology
16th March 2020
Monday
Music (Theory)
First Language
Gujarati
Hindi
Marathi
Urdu
Sindhi
English
Tamil
17th March 2020
Tuesday
–
Hindi (Second Language)
18th March 2020
Wednesday
–
Second Language
Gujarati
English
19th March 2020
Thursday
Drawing Theory
Drawing Practical
Introduction to Computer
20th March 2020
Friday
–
Sanskrit
Persian
Arabic
Nature
21st March 2020
Saturday
Statehood
Sociology
For Science Stream:
Date
Subject
Time
5th March 2020
Physics
03:00 PM to 06:30 PM
7th March 2020
Chemistry
03:00 PM to 06:30 PM
11th March 2020
Biology
03:00 PM to 06:30 PM
12th March 2020
First Language – Gujarati/ Hindi/ Tamil/ Marathi/ Urdu/Sindhi
Second Language – Gujarati/ Hindi/ Sanskrit/Farsi/ Arabic/ Prakrit
03:00 PM to 06:30 PM
14th March 2020
Mathematics
03:00 PM to 06:30 PM
16th March 2020
English – First Language
English – Second Language
03:00 PM to 06:30 PM
For Vocational Stream:
How to Download GSEB 12th Time Table PDF
Students who are new to time table download can get the guide to download the GSEB 12th time table from our page here.  Check the steps and repeat them to get the GSEB time table downloaded into your system.
Open the official website of GSEB – gseb.org.
In the homepage of the website, you can find lots of links,
From the many links, search for the link saying 'GSEB 12th Time Table'.
Click on the link and it will open in a new tab and also automatically gets downloaded.
Open the PDF file and check the dates of all the exams.
For more updates about GSEB HSC Time Table 2020 bookmark our website KVPY.ORG.IN and visit us often.  Leave your queries if any in the comments section below and we will answer them in no time.