Graduate Aptitude Test Engineering (GATE) is a national level engineering entrance examination conducted by Indian Institute of Science every year. The exam will be usually held in the month of February for all the eligible students of the country. Students study very hard to secure good rank in the GATE entrance exam.  IIS has already issued the exam date of GATE 2021 back in time. Now, the institute has come up with the updated syllabus for the exam. The GATE 2021 Syllabus is available online for download.  The syllabus will help the students while preparing for the exam.
GATE 2021 Syllabus
The GATE Syllabus 2021 is pretty much similar to last years. Students should however download the updated syllabus of the present year from the official website. In order to start the preparation for the exam, students need to be aware of the syllabus in first place. The syllabus will cover all the subjects as well as all the topics that will be likely present in the paper. So, students should immediately get a hold of the GATE Syllabus. This will help them arrive to a conclusion on preparation easily.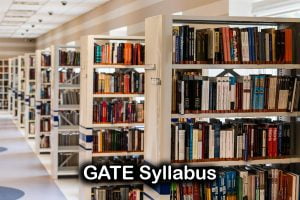 GATE Aptitude Syllabus 2021
The GATE exam syllabus has been finalized by the IIT Bombay after the release of GATE Notification. The general aptitude plays a key role in the GATE exam. Students are suggested to pay more attention to the general aptitude to make good score in the entrance exam. That is the best way they can achieve good rank in the entrance test and thereby the seat in the best institute. The syllabus contains all the subjects and the chapters to be covered for preparation in detail.
The general aptitude syllabus for all the subjects is common. So, candidates appearing in any of the GATE 2021 papers can download the GATE aptitude syllabus PDF soon. Aptitude is very important to score more marks in the test. So, candidates are advised not to skip this topic while preparing for the GATE exam.  This will help them attain good score and thereby attain a good rank in the GATE exam.
Verbal Ability: English grammar, sentence completion, verbal analogies, word groups, instructions, critical reasoning and verbal deduction. Numerical Ability: Numerical computation, numerical estimation, numerical reasoning and data interpretation.
Numerical Ability: Numerical computation, numerical estimation, numerical reasoning and data interpretation.
GATE 2021 Syllabus Subject Wise
Students can download the subject wise syllabus of GATE 2021 from online.  Students who want to achieve good scores in the exam are suggested to prepare well without leaving out any topic as unimportant.  Every topic is important and if you want to get admission into your dream college to pursue your post graduation, then you must not leave any topic out.  The subject wise syllabus will be clear to understand and so students are suggested to download it from our website – KVPY.ORG.IN. You can check it out and also click on the link associated with it to download it into your device.
Code
Subject
Check Syllabus Here

General Aptitude (GA) : Common in all papers

AE
Aerospace Engineering
Syllabus Link
AG
Agricultural Engineering
Syllabus Link
AR
Architecture and Planning
Syllabus Link
BT
Biotechnology
Syllabus Link
CE
Civil Engineering
Syllabus Link
CH
Chemical Engineering
Syllabus Link
CS
Computer Sc. and Information Technology
Syllabus Link
CY
Chemistry
Syllabus Link
EC
Electronics and Communication Engg.
Syllabus Link
EE
Electrical Engineering
Syllabus Link
EE
Environmental Science and Engineering
Syllabus Link
EY
Ecology and Evolution
Syllabus Link
GG
Geology and Geophysics
Syllabus Link
IN
Instrumentation Engineering
Syllabus Link
MA
Mathematics
Syllabus Link
ME
Mechanical Engineering
Syllabus Link
MN
Mining Engineering
Syllabus Link
MT
Metallurgical Engineering
Syllabus Link
PE
Petroleum Engineering
Syllabus Link
PH
Physics
Syllabus Link
PI
Production and Industrial Engineering
Syllabus Link
ST
Statistics
Syllabus Link
TF
Textile Engineering and Fibre Science
Syllabus Link
XE – A

XE – B

XE – C

XE – D

XE – E

XE – F

XE – G

XE – H

Engineering Mathematics

Fluid Mechanics

Materials Science

Solid Mechanics

Thermodynamics

Polymer Science and Engineering

Food Technology

Atmospheric and Oceanic Sciences

Syllabus Link
XH – B1

XH – C1

XH – C2

XH – C3

XH – C4

XH – C5

XH – C6

Reasoning and Comprehension

Economics

English

Linguistics

Philosophy

Psychology

Sociology

Syllabus Link
XL – P

XL – Q

XL – R

XL – S

XL – T

XL – U

Chemistry

Biochemistry

Botany

Microbiology

Zoology

Food Technology

Syllabus Link
The GATE aptitude syllabus PDF file is updated in this page below for you. Check it out! We shall also provide different articles of GATE 2021 Syllabus subject wise for your easy access. For more updates regarding GATE 2021, keep visiting our page often. Also, bookmark our website KVPY .ORG.IN.