Dr. A. P. J. Abdul Kalam University in Uttar Pradesh is in plans to organize UPSEE exam for the interested contenders across the country.  The university provides admissions into UG and PG courses every year for the merit students of the entrance exam it conducts. It calls the entrance exam as Uttar Pradesh State Entrance Examination.  Couple of days back the university has released the UPSEE notification 2020. Applicants are advised to go through the UPSEE Eligibility 2020 before applying.  We have it covered here for you.
UPSEE Eligibility 2020
Students applying for the UPSEE 2020 should know the eligibility criteria required to appear for the exam in first place.  Students who don't satisfy the criteria will not be entertained to take the exam. So, students should be aware of the eligibility before applying.  The eligibility is not the same for all the courses offered by the university. It varies from course to course and of course the level of graduation.  Students need to check the eligibility taking into consideration the course for which they are applying for. The UPSEE application forms shall be accepted by the university only if the applicants satisfy the criteria regulated by the university in the notification released.  If not, such application forms shall be considered ineligible.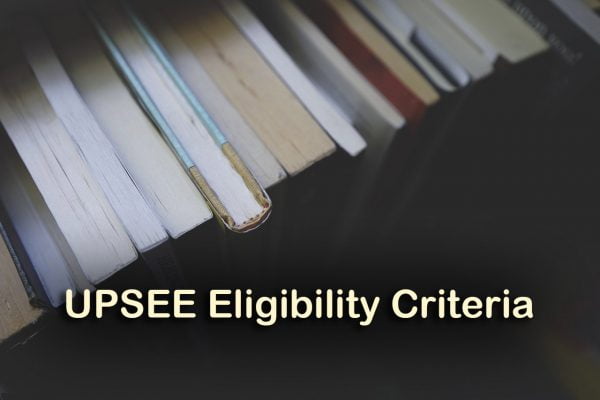 For those students who are in quest for the eligibility, we are here with the UPSEE Eligibility 2020.  Check it before proceeding further.
Candidates applying for B.Tech, B.Des & Integrated MCA courses, should have passed 12th with Physics and Mathematics and any one subjects from Chemistry/ Bio-Technology/ Biology/ Technical Vocational subject and minimum 45% marks (40% for reserved categories).
Students who have passed 12th with Physics and Mathematics/Biology and any one subjects from Chemistry/ Bio-Technology / Biology / Technical Vocational subject are eligible to apply for B.Tech Bio-Technology.
Candidates that have qualified 10+2 with Physics & Chemistry and any one subject from Mathematics/ Bio-Technology/ Biology / Technical Vocational Subject. Minimum 45% marks (40% for reserved categories) can apply for B.Pharma.
Applicants of BHMCT/BFAD/BFA/ MBA(Integrated) course should have 12th passed with any stream with 45% marks and 40% for SC/ST categories.
B.Arch course applicants must have 10+2 passed with Physics and Mathematics and any one subjects from Chemistry/ Computer Science/ Biology/ Engineering Drawing / Technical Vocational subject with 50% aggregate.
The UPSEE Eligibility Criteria for MBA/MCA applicants is Bachelors degree of at least three years from any recognized university.  Students should have secured at least 50% marks (45% for SC/ST). MCA applicants must have passed Mathematics at 10+2 level or Graduation level.
B.Tech-LE applicants should have Engineering Diploma, B.Sc. Graduates with Mathematics subject at 10+2 level.
Also, B.Pharma-LE applicants should have Diploma in Pharmacy.
Students applying for MAC-LE course must have BCA, B.Sc (IT/ Computer Science) degree to apply.
All applicants can check UPSEE Syllabus and and Important Dates by clicking on the hyperlinks.
This is the UPSEE Eligibility 2020 that every applicant needs to satisfy in order to apply for the UPSEE 2020.  Students without proper eligibility criteria shouldn't apply and even if they apply, the application forms shall be rejected.  Please don't forget to bookmark our website KVPY.ORG.IN if you want to receive more updates from us about the competitive exams.