SRM University is one of the prestigious universities to offer under graduate and post graduate courses to the students across the country.  Annually, the university conducts Joint Engineering Entrance Exam for the students who are in plans to join under graduate and post graduate courses.  It allots the seats in its campus to the merit students of the entrance exam. The university has recently published the notification in which it announced SRMJEEE Important Dates 2020.  We have covered all that here for you.
SRMJEEE Important Dates 2020
SRM University is welcoming online and offline applications from the eligible candidates as per the Eligibility criteria and interested students from and outside the country.  In the notification it has issued recently, it has mentioned the criteria that the students need to qualify in order to apply for the entrance exam.  The exam will be held in online mode and the result will be announced through online only. Students before proceeding further with the application process and all should check SRMJEEE Important Dates.  Every year thousands and thousands of students qualify from the university.  It offers courses of study into Engineering, Management and Medical programmes to those students who crack the JEE exam.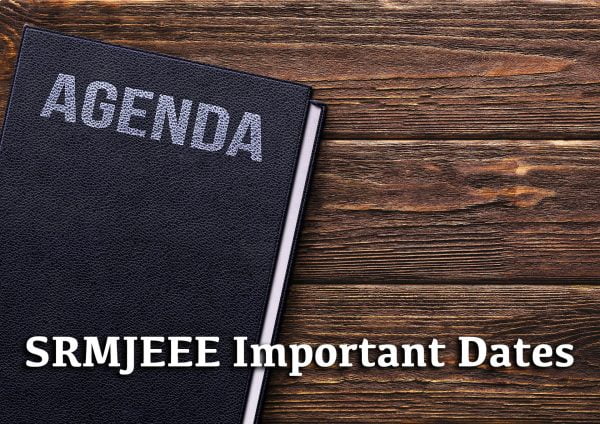 The dates play an essential role in the exams like JEEE.  This is because, if the candidate is not aware of the date and submits the application form after the due date, then the application will not be accepted.  So, candidates should be very particular about the dates and cross check them more than once while submitting the application form. SRMJEEE 2020 Important Dates are all covered here at one place.  We have collected all the dates and listed them here for you.  You can simply refer to these dates and apply to SRMJEEE accordingly.
SRMJEEE Important Dates 2020
Event
Dates
SRMJEEE 2020 application registration starts
October 12th 2019
Last date of OMR Application
February 29th 2020
Online application forms submission last date
March 30th 2020
Application forms corrections
April 1st week to 2nd week 2020
SRMJEE online slot booking
April 1st week 2020
SRMJEE Admit Card Date 2020
April 2nd week 2020
Online Exam date 2020
April 12th to April 20th 2020
SRMJEE Result 2020 Date
April 4th week 2020
SRMJEE Counselling 2020
May 1st or 2nd week 2020
On-campus Enrollment
June 3rd week 2020
Commencement of Classes
June 4th week 2020
These are the important dates that all the applicants of SRMJEE exam should be aware of.  Students should remember and abide by the dates without miss. Also check out the SRMJEEE Syllabus to start the preparation.
Hope the information we have covered related to SRMJEEE Important Dates 2020 in this article is useful for you.  We shall update our website KVPY.ORG.IN with more latest updates shortly.  Make sure to keep in touch with this space.